Osaka Tour (8 Hours)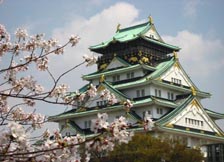 Location:

Osaka, Japan

Duration:

8 hours(approx.)

Time:

Daily

Tour Code:

CBL00015
The ultimate tour of Osaka! You can see all of the interesting places in Osaka area.
This is an exclusive tour by our chartered vehicles. Using this service, you can charter your vehicle Limousine, Van, or Bus which is most suitable for your group and visit many attractive sightseeing spots. You don't have to hurry for any other tourist. This tour is only for your group!
Tour Details

09:00 Central Osaka Area for pick up
09:30-11:30 Osaka Castle - (Admission Fee: Adult 600JPY/Child Free)
12:00-13:30 Dotonbori (Lunch & Shopping)
14:00-15:00 Shitennoji Temple - (Admission Fee: Adult 1,100JPY/Child 700JPY)
15:30-16:30 Floating Garden Observatory - (Admission Fee: Adult 1,000JPY/Child 500JPY)
17:00 Central Osaka Area for drop off


Tour Highlights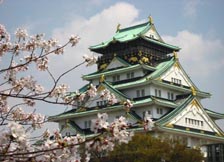 Osaka Castle
It is the symbol of Osaka and one of Japan's most famous castles, situating on a plot of land roughly one kilometer square at the centre of Osaka City. There are many souvenir shops in the castle and you can take a picture with Warrior attired staff outside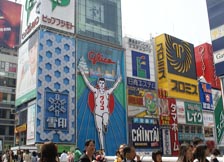 Dotonbori
It is the city's most famous shopping and entertainment district and is famous for its historic theaters (all gone now), its shops and restaurant.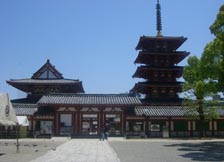 Shitennoji Temple
Shitennoji is the oldest Buddhism temple in Japan, built in 593 by Prince Shotoku, who first brought in Buddhism to Japan. They were remained the original Asuka period design after carefully reconstruction eventhough several times of fire disaster throughout many centuries.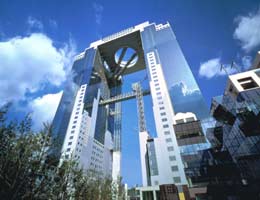 Floating Garden Observatory (Umeda Sky Buidling)
The spectacular high rise building offers a great view of Osaka city. Two main towers are connected with each other by the "Floating Garden".
Prices
Vehicle Types
Passengers
Prices
Sedan
Passengers:3
55,600 JPY
(Japanese driver)
64,500 JPY
(English driver)
Full Size Van
Passengers:8~9
61,200 JPY
(Japanese driver)
70,000 JPY
(English driver)
Micro Bus
Passengers:15~21
84,700 JPY
(without guide)
129,700 JPY
(inc.English guide)
Small Size Bus
Passengers:21~25
90,700 JPY
(without guide)
135,700 JPY
(inc.English guide)
Medium Size Bus
Passengers:27~28
104,900 JPY
(without guide)
149,900 JPY
(inc.English guide)
Large Size Bus
Passengers:45~60
119,200 JPY
(without guide)
164,200 JPY
(inc.English guide)
If you charter a Large Size Bus with an English guide by 40 passengers,
the cost per passenger will be 4,105 JPY.
Additional Information
All prices are of each chartered vehicles, not per person.
All prices apply to the vehicles that we own. Please note that the prices can be different if they are occupied.
All prices don't include admission fees & lunch fees.
We recommend you to hire an English-speaking guide for your tour. They can guide you at the sightseeing spots in English. Also they can help you pay admission fees or lunch fees in Japanese.
<< 4 hours : 25,000 JPY, 8 hours : 45,000 JPY, inc.tax >>
Other language guides are also available. (Chinese, Korean, German, French, Italian, Spanish and Russian)
We can make your own tour itinerary according to your interests.
Please request us at least 2 weeks in advance of your tour date.

Payment
Please note that the price is to be paid in advance with credit cards. We accept VISA, Mastercard, AMEX, and Diners. If you can confirm your reservation, we will send you a payment email with URL link to the credit card payment form through which you can make a payment online. Please note that your reservation won't be completed unless the payment is made in advance.
Cancellation Policy
Cancellation of all or part of bookings shall incur a cancellation charge described below.

| | |
| --- | --- |
| Up to 15 days prior to date of travel | No cancellation fee |
| 14 - 8 days prior to date of travel | 20% of the specified fare and charges |
| 7 days - 2 days prior to the date of travel | 30% of the specified fare and charges |
| The day before the date of travel | 50% of the specified fare and charges |
| On the date of travel | 100% of the specified fare and charges |
| Cancellation without notice (no-show) | 100% of the specified fare and charges |
For more information about our charter services, please contact:
Charter Bus & Limousine Japan Bookings
Email : info@charterbus-limousine.com
Monday to Friday (09:15 am-5:00 pm Japanese Local Time, Except public holidays)
Go Top