Meet and Greet
Service
Narita International Airport Terminal 2 Meeting Area
1 st Floor Arrival Lobby
Our Meeting staff waiting for you at the following place.
You arriving at Narita International Airport Terminal 2, the exit is divided
between A zone and B zone. Please inform you to exit the exit gates nearest to the baggage claim carousel. The staff cannot meet you if you exit a different exit due to the congestion at customs.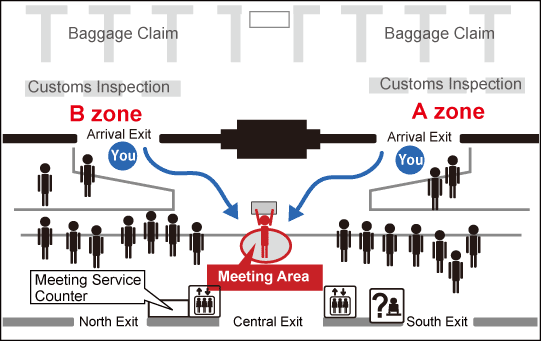 AIRLINES:
Sebu Pacific (5J)
American Airlines (AA)
Air India (AI)
Finnair (AY)
British Airways (BA)
China Airlines (CI)
Cathay Pacific Airways (CX)
Air Asia (D7)
Asian Air (DM)
Emirates (EK)
Trans Asia (GE)
Asia Atlantic Airlines (HB)
Tigerair Taiwan (IT)
Jet Asia (JF)
TAM Airlines (JJ)
Japan Airlines (JL)
LAN Airlines (LA)


Malaysia Airlines (MH)
China Eastern Airlines (MU)
Air Macau (NX)
Bangkok Airways (PG)
Pakistan International Airlines (PK)
Philippine Airlines (PR)
Air Niugini (PX)
Qantas Airways (QF)
Qatar Airways (QR)
S7 Airlines (S7)
Air Tahiti Nui (TN)
Scoot (TZ)
SriLankan Airlines (UL)
Hong Kong Express (UO)
US Airways (US)
Thai Air Asia (XJ)
Easter Jet (ZE)