Corporate Car
Types
Full Size Van

Passengers
8~9
Passengers
with Suitcases
(Recommended)
7
Amenities
Air conditioning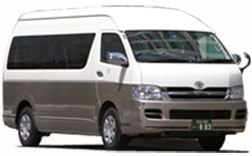 Full Size Van
Our full size van is perfect for small groups, VIPs, families, and extremely limited access areas. We offer a variety of vans with seating 5-8 passengers.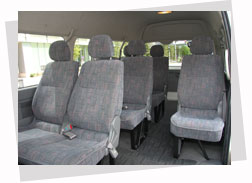 Explore the inside
All these vehicles have comfortable seats, tinted safety glass windows, climate control and Radio.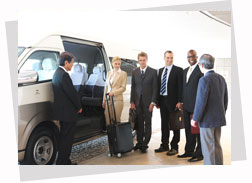 Events and Occasions
Airport Transfers
Corporate Events
Private Events
Sightseeing Tours and more!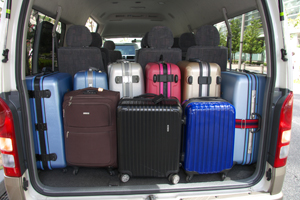 *The vehicle you reserve that might look different than the one displayed in this image.
Choose Pick-up AIRPORT or CITY:

Seating Charts

Main Seats 13
No Luggage Space  Total Seats 13

Main Seats 11
Luggage 3~5      Total Seats 11

Main Seats 9
Luggage 7~8     Total Seats 9
Payment
Please note that the price is to be paid in advance with credit cards. We accept VISA, Mastercard, AMEX and Diners.
Cancellation Policy
Cancellation of all or part of bookings shall incur a cancellation charge described below.

| | |
| --- | --- |
| Up to 15 days prior to date of travel | No cancellation fee |
| 14 - 8 days prior to date of travel | 20% of the specified fare and charges |
| 7 days - 2 days prior to the date of travel | 30% of the specified fare and charges |
| The day before the date of travel | 50% of the specified fare and charges |
| On the date of travel | 100% of the specified fare and charges |
| Cancellation without notice (no-show) | 100% of the specified fare and charges |
For more information about our charter services, please contact:
Charter Bus & Limousine Japan Bookings
Email : info@charterbus-limousine.com
Monday to Friday (09:15 am-5:00 pm Japanese Local Time, Except public holidays)
Go Top