Tokyo Shopping Tour (8 Hours)
48,700 yen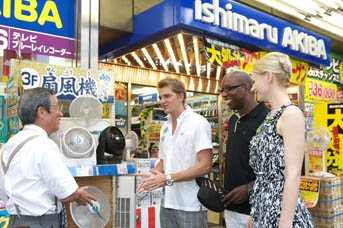 Location:

Tokyo, Japan

Duration:

8 hours

Time:

Daily

Tour Code:

CBL00020
Love shopping in Japan but tired of carrying shopping bags in public transportation? Our vehicle will take you to the best shopping places in Tokyo Area and drop you off at your requested hotel. We will be happy to change the itinerary below so you can shop at your favorite stores. Now you can shop as much as you want!
This is an exclusive tour by our chartered vehicles. Using this service, you can charter your vehicle Limousine, Van, or Bus which is most suitable for your group and visit many attractive sightseeing spots. You don't have to hurry for any other tourist. This tour is only for your group!
Tour Details

10:00AM Hotel in Tokyo for pick up
10:30AM Ginza - Upscale shopping district - 90min
12:15PM Lunch (Tsukiji Fish Market or Ginza) - 60min
13:45PM Akihabara - Major Shopping Area for Electronics & Computers - 90min
15:45PM Shibuya - Fast Fashion (H&M, Forever 21), 109, LOFT (Hobby & Lifestyle products) - 120min
18:00PM Hotel in Tokyo for drop off

Tour Highlights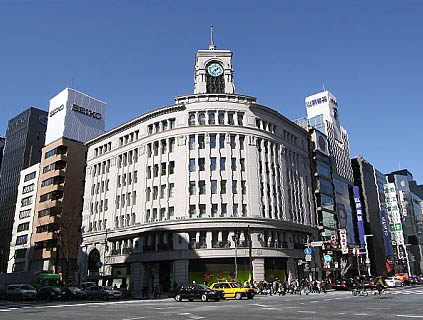 Ginza
Ginza is Tokyo's most famous upscale shopping and dining district. There are numbers of department stores, boutiques, art galleries, restaurants, night clubs and cafes.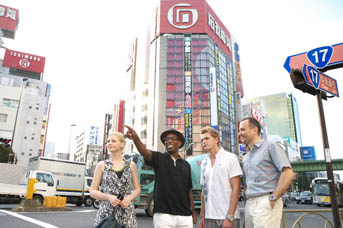 Akihabara
Akihabara, also called Akiba is famous for its many electronics shops such as Laox, Ishimaru or Yodobashi. In more recent years, Akihabara has gained recognition as the center of Japan's otaku culture, and many shops and establishments devoted to anime and manga.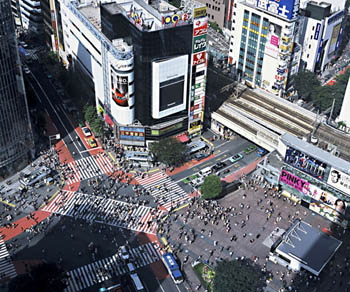 Shibuya
Known as the fashion center for young people. Popular places are Shibuya 109 (trendy place for mostly young women to shop), H&M and Forever 21, Department Stores such as Seibu and Tobu for upscale brands, and LOFT and Tokyu Hands for do-it-yourself, interior, hobby, crafts, stationery and more.
Prices
Vehicle Types
Passengers
Prices
Limousine
Passengers:3
48,700 yen
(English driver)
Full Size Van
Passengers:8~9
57,700 yen
(English driver)
Micro Bus
Passengers:18~25
61,700 yen
(without guide)
88,700 yen
(inc.English guide)
Small Size Bus
Passengers:21~25
66,700 yen
(without guide)
93,700 yen
(inc.English guide)
Medium Size Bus
Passengers:28
77,400 yen
(without guide)
104,400 yen
(inc.English guide)
Large Size Bus
Passengers:45~60
87,400 yen
(without guide)
114,400 yen
(inc.English guide)
If you charter a Small Size Bus with an English guide by 20 passengers,
the cost per passenger will be 4,935 yen.
Additional Information
All prices are of each chartered vehicles, not per person.
All prices applie to the vehicles that we own. Please note that the prices can be different if they are occupied.
All prices don't include admission fees & lunch fees.
We recommend you to hire an English-speaking guide for your tour. They can guide you at the sightseeing spots in English. Also they can help you pay admission fees or lunch fees in Japanese.
<< 4 hours : 16,000 yen, 8 hours : 27,000 yen, inc.tax >>
Other language guides are also available. (Chinese, Korean, German, French, Italian, Spanish and Russian)
For a good choice of hotels with discount prices, visit Hotel in Tokyo for more information.
We can make your own tour itinerary according to your intersts.
Please request us at least 2 weeks in advance of your tour date.

Payment
Please note that the price is to be paid in advance with credit cards. We accept VISA, Mastercard, AMEX, and Diners. If you can confirm your reservation, we will send you a payment email with URL link to the credit card payment form through which you can make a payment online. Please note that your reservation won't be completed unless the payment is made in advance.
Cancellation Policy
Cancellation of all or part of bookings shall incur a cancellation charge described below.

| | |
| --- | --- |
| Up to 15 days prior to date of travel | No cancellation fee |
| 14 - 8 days prior to date of travel | 20% of the specified fare and charges |
| 7 days - 2 days prior to the date of travel | 30% of the specified fare and charges |
| The day before the date of travel | 50% of the specified fare and charges |
| On the date of travel | 100% of the specified fare and charges |
| Cancellation without notice (no-show) | 100% of the specified fare and charges |
For more information about our charter services, please contact:
Charter Bus & Limousine Japan Bookings
Email : info@charterbus-limousine.com
Monday to Saturday (09:15 am-5:30 pm Japanese Local Time, Except public holidays)
Go Top