Hiroshima Tour (6 Hours)
39,000 yen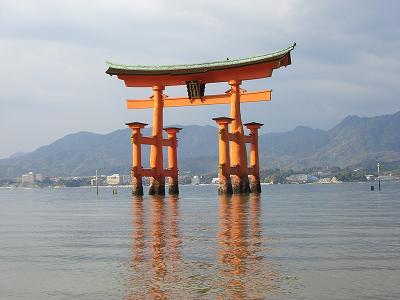 Location:

Hiroshima, Japan

Duration:

6 hours(approx.)

Time:

Daily

Tour Code:

CBL00023
Come see the rich culture of Hiroshima and breath taking view of Miyajima!
This is an exclusive tour by our chartered vehicles. Using this service, you can charter your vehicle Limousine, Van, or Bus which is most suitable for your group and visit many attractive sightseeing spots. You don't have to hurry for any other tourist. This tour is only for your group!
Tour Details

10:00AM Pick up at Hiroshima city
10:15AM Hiroshima Peace Memorial Park - 30min
11:30AM Ferry Ride to Miyajima - 10min
11:45AM Sightseeing & Lunch in Miyajima - 3 hours *Itsukushima Shrine, Five story pagoda and more
03:00PM Ferry Ride back to Hiroshima - 10min
04:00PM Drop off at Hiroshima city

Tour Highlights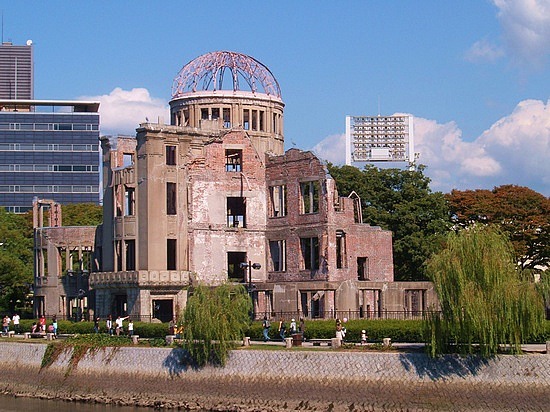 Hiroshima Peace Memorial Park
Hiroshima Peace Memorial Park is dedicated to the legacy of Hiroshima as the first city in the world to suffer a nuclear attack, and to the memories of the bomb's direct and indirect victims. There are a number of memorials, monuments, museums, and lecture halls, which draw over a million visitors annually.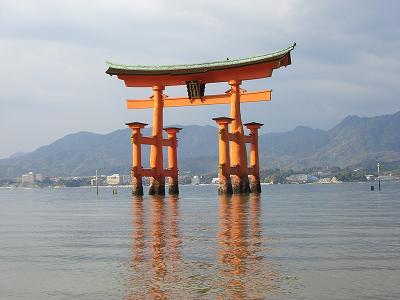 Miyajima
Miyajima is an island located less than an hour from the center of Hiroshima and it is most famous for its giant torii gate, which at high tide seems to float on top of the water. The sight is ranked as one of Japan's three best views.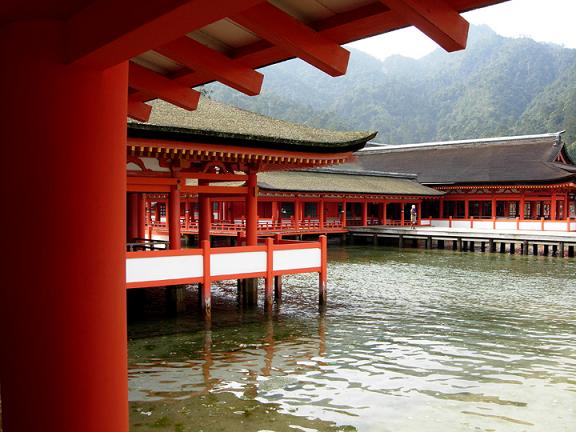 Itsukushima Shrine
Known for the unique and bold concept of being built in the sea as well as its elegant architectural style called "Shinden Zukuri". The shrine complex is listed as a UNESCO World Heritage Site and the Japanese government has designated several buildings and possessions as National Treasures.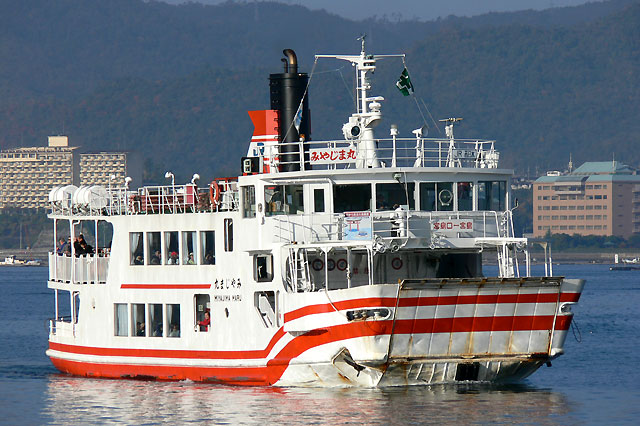 Ferry to Miyajima
This eco-friendly Ferry will take you from Hiroshima to Miyajima Island in 10 minutes. The interior of the ferry is clean and well maintained, and it is also wheelchair accessible. There is a panorama deck on the ferry where you can take great picture of the torii gate.
Prices
Vehicle Types
Passengers
Prices
Medium Size Taxi
Passengers:3
39,000 yen
(inc.English guide)
Full Size Van
Passengers:8~9
54,000 yen
(inc.English guide)
Small Size Bus
Passengers:21~25
58,000 yen
(without guide)
80,000 yen
(inc.English guide)
Medium Size Bus
Passengers:27~28
75,000 yen
(without guide)
97,000 yen
(inc.English guide)
Large Size Bus
Passengers:45~60
85,000 yen
(without guide)
107,000 yen
(inc.English guide)
If you charter a Small Size Bus with an English guide by 20 passengers,
the cost per passenger will be 4,000 yen.
Additional Information
All prices are of each chartered vehicles, not per person.
All prices don't include admission fees and lunch fees.
We recommend you to hire an English-speaking guide for your tour. They can guide you at the sightseeing spots in English. Also they can help you pay admission fees or lunch fees in Japanese.
<< 6 hours : 22,000 yen, inc.tax >>
We can make your own tour itinerary according to your intersts.
Please request us at least 2 weeks in advance of your tour date.

Payment
Please note that the price is to be paid in advance with credit cards. We accept VISA, Mastercard, AMEX, and Diners. If you can confirm your reservation, we will send you a payment email with URL link to the credit card payment form through which you can make a payment online. Please note that your reservation won't be completed unless the payment is made in advance.
Cancellation Policy
Cancellation of all or part of bookings shall incur a cancellation charge described below.

| | |
| --- | --- |
| Up to 15 days prior to date of travel | No cancellation fee |
| 14 - 8 days prior to date of travel | 20% of the specified fare and charges |
| 7 days - 2 days prior to the date of travel | 30% of the specified fare and charges |
| The day before the date of travel | 50% of the specified fare and charges |
| On the date of travel | 100% of the specified fare and charges |
| Cancellation without notice (no-show) | 100% of the specified fare and charges |
For more information about our charter services, please contact:
Charter Bus & Limousine Japan Bookings
Email : info@charterbus-limousine.com
Monday to Saturday (09:15 am-5:30 pm Japanese Local Time, Except public holidays)
Go Top